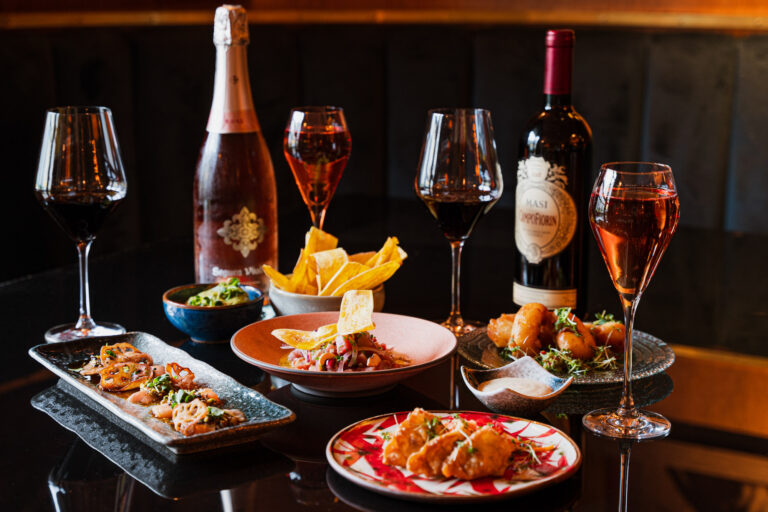 AFMÆLISMÁNUÐUR

/ ANNIVERSARY MONTH
Monkeys á eins árs afmæli um þessar mundir. Af því tilefni ætlum við að bjóða upp á þennan girnilega matseðil allan september.
Einnig höfum við ákveðið að hafa tilboð á eftirfarandi vínflöskum og kokteilum allan mánuðinn.
It is Monkeys one year anniversary. To celebrate we have put togeather this special anniversary menu on offer through September.
We also have a special offer on the following bottles of wine and cocktails through September.
Segura Viudas Brut Rosé
Penedés, Spain 750ml
5990
Masi Campofiorin
Veneto, Italy 750ml
5990
PINK 75
Gordon's Gin – Hindber – Kókos – Sítróna – Freyðandi Rósavín
Gordon's Gin – Raspberry – Coconut – Lemon – Sparkling Rosé
1990
KAZE
Awamori – Smirnoff Vodka – Plóma – Grænt Shiso – Yuzu
Awamori – Smirnoff Vodka – Plum – Green Shiso – Yuzu
1990
MOJITO
Pampero Romm – Límóna – Mynta – Sykur
Pampero Rum – Lime – Mint – sugar
1990
STÖKKIR PLANTAIN BANANAR
Bornir fram með spicy guacamole
– – – – – – – 
TÚNFISK CEVICHE
Túnfiskur, ástaraldin- og sítrusdressing, rauðlaukur, vorlaukur, vatnsmelóna, kasjúhnetur, granatepli
REGNBOGASILUNGS TIRADITO
Regnbogasilungs sashimi, sesamponzu, eldpipar macha, sesamfræ, graslaukur
– – – – – – – 
ARGENTÍSKAR RISARÆKJUR TEMPURA
Djúpsteiktar risarækjur, salsa verde, jalapenjódýfa
STÖKKT KJÚKLINGA GYOZA
Djúpsteikt gyoza með kjúklingi, gerjað hvítkáls og eplasalat, eldpiparmajó, sesamponzu
– – – – – – – 
MISO NAUTALUND
Nautalund, perúísk kartöflukaka, sveppa mole, eldpipar macha, sterkkryddaður kjúklingasoðgljái
eða:
GRILLAÐUR LAX
Kremað bygg með amarillo pipar, sýrður laukur, blómkáls- og möndlumulningur, wasabifroða
Verð per mann 9.490
STÖKKIR PLANTAIN BANANAR
Bornir fram með spicy guacamole
– – – – – – – 
VEGAN CEVICHE
Grafnar rófur, rauðlaukur, sítrusdressing, aji amarillo, vatnsmelóna, vorlaukur
VATNSMELÓNU CARPACCIO
Kolagrilluð vatnsmelóna, rósapipar, sveppamajó, stökk svartrót, klettasalat, furuhnetur
– – – – – – – 
STÖKKT GRÆNMETIS GYOZA
Djúpsteikt gyoza með gerjuðu hvítkáli og eldpipar, eldpiparmajó, sesam ponzu
GRILLAÐ HJARTASALAT
Marinerað hjartasalat, gerjað hvítkáls- og eldpiparsalat, hnetumulningur, goma dressing
– – – – – – – 
GRILLAÐ SVEPPASPJÓT
Kolagrillaðir portobello- og shitakesveppir,papriku- og kasjúhnetusósa, stökkir ostrusveppir, djúpsteiktar kartöflur í miso-tempuradeigi
Verð per mann 8.490
FRIED CRISPY PLANTAINS
Served with spicy guacamole
– – – – – – – 
TUNA CEVICHE
Tuna, passon fruit and citrus dressing, red onion, watermelon, scallions, cashews, pomegranate
RAINBOW TROUT TIRADITO
Rainbow trout sashimi, sesame ponzu, chili macha, sesame seeds, chives
– – – – – – – 
ARGENTINIAN GIANT PRAWNS
Deep fried giant prawns, alsa verde, jalapeno dip
CRISPY CHICKEN GYOZA
Deep fried chicken gyoza, fermented cabbage and apple salad chili mayo, sesame ponzu
– – – – – – – 
MISO TENDERLOIN OF BEEF
Tenderloin of beef, peruvian potato cake, chili macha shitake mushroom mole, spicy chicken glaze
eða:
GRILLED SALMON
Creamy barley with amarillo pepper, pickled onions, cauliflower and almond crumble, wasabi foam
Price per person 9.490
FRIED CRISPY PLANTAINS
Served with spicy guacamole
– – – – – – – 
VEGAN CEVICHE
Cured beetroot, red onions, citrus dressing, aji amarillo peppers, watermelon, scallions
WATERMELON CARPACCIO
Grilled watermelon, pink pepper, mushroom mayo, crispy salsify, rucola, pine nuts
– – – – – – – 
CRISPY VEGETABLE GYOZA
Deep fried gyoza with fermented cabbage and chili, spicy mayo, sesame ponzu
GRILLED BABY GEM SALAD
Marinated heart of romaine, fermented cabbage and chili salad, nut crumble, goma dressing
– – – – – – – 
GRILLED MUSHROOM SKEWER
Grilled portobello and shitake mushrooms, bell pepper and nut sauce, oyster mushrooms, deep fried potatoes in miso tempura
Price per person 8.490